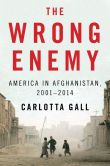 The Wrong Enemy
By Carlotta Gall
Houghton Mifflin Harcourt
Retail Price:  $28.00
Amazon Price:  15.12
Book Description:  Carlotta Gall has reported from Afghanistan and Pakistan for almost the entire duration of the American invasion and occupation, beginning shortly after 9/11. She knows just how much this war has cost the Afghan people, and how much damage can be traced to Pakistan and its duplicitous government and intelligence forces. Now that American troops are withdrawing, it is time to tell the full history of how we have been fighting the wrong enemy, in the wrong country.Gall combines searing personal accounts of battles and betrayals with moving portraits of the ordinary Afghanis who endured a terrible war of more than a decade. Her firsthand accounts of Taliban warlords, Pakistani intelligence thugs, American generals, Afghani politicians, and the many innocents who were caught up in this long war are riveting.  Her evidence that Pakistan fueled the Taliban and protected Osama bin Laden is revelatory. This is a sweeping account of a war brought by well-intentioned American leaders against an enemy they barely understood, and could not truly engage.
Review
This book is really about history in the making.  I am posting it on History's Women, because I believe that  the author, Carlotta Gall, a journalist stationed in Afghanistan for nearly14 years, is a courageous women who is speaking the truth, even if it is difficult to hear.  She is a reformer at heart and is using her experiences in Afghanistan to help us understand what truly when on across the globe during the 13 years of war.
Reading this book is like watching a documentary film on the area and the people.  She writes in such a way that you feel as if you are walking the dusty roads with her.  Gall helps us face the hard facts of the war in Afghansitan including divulging shocking evidence that doesn't put the U.S. Government in the best light.  I give her credit for having the courage to tell it like she saw it, no holds-barred.  This book will shock you, enlighten you, and give you compassion for our soldiers who were fighting a war so far from home for so many years.
Giveaway
If you would like a chance to win a free copy of this book email us by the end of the month.  Be sure to include the name of the book in the body of the email along with your name and address